WFR- Wed Oct 21st|Shannon Sugar Doyle Selections
2 min read
We are the only show in town on Wednesday and if your down with it there are 12 great races to wager on from The Raceway in London and it all gets started at 6:15 pm.
This year at the raceway they have added the Popular Pick 5 which begins in race 1 and has a guaranteed pool with the always low 15% takeout.

Those watching from home are encouraged to wager using HPIBETS.

All races can be wagered on via the HPIBET.com platform and we have provided an easy to access link to get you set up with a safe and secure wagering account.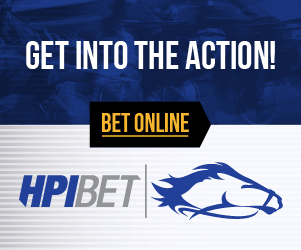 HPIbet is the leading 'go to' destination for betting on horse racing.
We put you at the forefront of the action with access to over 450 racetracks displaying the best in Thoroughbred and Standardbred racing from all over the world – North America, Europe, South Africa, Dubai, Japan, and Australia. Connect to HPIbet from anywhere– at home, work, or any hotspot in your city – and conveniently place bets, review handicapping statistics, and watch races on your Smartphone, Tablet or PC.
Accessible 24/7 on a reliable platform that ensures privacy and safeguards your information, you get peace of mind, the necessary tools to make winning bets and the thrill of horse racing any where, any time with HPIbet. Sign up now by clicking the link or the photo above.
Sugar's Selections
Wednesday, October 21
RACE 1:
3 WAR DIAMOND to start the PICK 5
4 LETS ROAR is one to think abou
8 DANDY IDEA completes the top 3
RACE 2:
3 MADAM DOLCE putting her on top
5 BEAUTY IS BLIND for the Exactor
7 TWIN B LUSH an outside chance
RACE 3:
1 SHADOW TAIL solid 2nd in latest
2 SUNSHINE N SHADE worth a look
8 BET THE LIMIT to be in the hunt
RACE 4:
8 SIR SHADOW looking ready to pop
3 EATAAMSBETTERSHARK top 2 play
2 LIVIN ONA DREAM is fitting in well
RACE 5:
4 VILLAGE CHAMP comes right back
3 LARJON LUCKY should be a factor
6 CHIK MAGUIRE a top 3 possibility
RACE 6:
5 COOL PRINCESS huge win in latest
3 LASS SHOT a must play with these
9 STONEBRIDGE SYDNEY top 3 threat
RACE 7:
8 CAVIARS TRIUMPH gets the top call
1 WINKYS PRIDE strong 2nd in latest
6 OCEANVIEW DEB she has to behave
RACE 8:
3 MACH DIESEL to start up the PICK 4
7 BLACK TITANIUM an outside chance
1 SPORTSLOVER is one to think about
RACE 9:
3 NEBRASKA JACK off a nice qualifier
2 SCENE A MAGICIAN great form now
8 WILLYORWONTHE is a likely threat
RACE 10:
1 ALPHABET QUEEN expecting more
8 SUGAR SHADOW follows out speed
3 ROBINTHEATM she's fitting in well
RACE 11:
1 OH K MAN down in class; top play
2 DEADLY ACTION in for a trip here
3 MACH ART IN MOTION top 3 threat
RACE 12:
4 LARJON LEAH to top a SUPER HI5
1 LADY FINETUNE is OK with these
5 GOLDEN LEADER must play again
One Best:
1 OH K MAN (Race 11)
Value Play:
3 WAR DIAMOND (Race 1)