Shannon Sugar Doyle Fri-Oct 9th The Raceway Selections.
2 min read
We have 12 races on the Friday night program high lighted by the glamour boys of the Ontario Sire Stakes program – 3 YEAR OLD COLT PACE who will battle for the winners share of the $155,600 purse.
The featured race is set to go post ward as the 7th race on the program with 2/5 morning line favorite Tattoo Artist drawing the rail.

All races can be wagered on via the HPIBET.com platform and we have provided an easy to access link to get you set up with a safe and secure wagering account.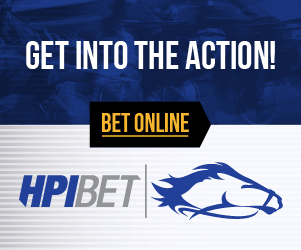 Fans are also encouraged to follow online and wager through
HPI Bet.
HPIbet is the leading 'go to' destination for betting on horse racing.
We put you at the forefront of the action with access to over 450 racetracks displaying the best in Thoroughbred and Standardbred racing from all over the world – North America, Europe, South Africa, Dubai, Japan, and Australia. Connect to HPIbet from anywhere– at home, work, or any hotspot in your city – and conveniently place bets, review handicapping statistics, and watch races on your Smartphone, Tablet or PC.
Accessible 24/7 on a reliable platform that ensures privacy and safeguards your information, you get peace of mind, the necessary tools to make winning bets and the thrill of horse racing any where, any time with HPIbet. Sign up now by clicking the link or the photo above.
Sugar's Selections
Friday, October 9
Race 1:
8 SWEET AMBITIONS starts the PICK 5
2 GRACEFUL TITAN one to think about
6 A STAR GALAXY an outsider's chance
Race 2:
1 MACH MINE BLUE has rail advantage
3 SHARK IDEA she looks OK with these
2 STILL OWING to complete the top 3
Race 3:
7 TITANIC KATE has never been better
2 ANN JACKSON rock solid form here
8 RIVERSONTHEGO racing very sharp
Race 4:
4 NORTHERN FLAME could double up
1 LES NESSMAN rail helps his chances
6 LOVE WARRIOR she's fitting in well
Race 5:
4 TWIN B SALSA is getting class relief
3 VINTAGE SMILE now meets tougher
5 PERSISTANT XAMPLE a top 3 player
Race 6:
2 ARTISTIC PICK popping off the page
1 BRAVADO SEELSTER he's a must play
9 DREAMFAIR TECATE one to consider
Race 7:
1 TATTOO ARTIST is hard to go against
2 BEACH BLANKET BOOK in for a trip
7 BEAUMOND HANOVER worth a look
Race 8:
2 SIR PUGSLEY a great shot with these
5 TYGA HANOVER should be the hunt
6 ROOTIN TOOTIN the outside chance
Race 9:
1 MISSYS MAGIC MAN meets easier now
2 VICTORIAHASASECRET Exactor factor
6 CHOCOLATE PIE toss his last; beware
Race 10:
6 COUNT TO THREE just has to behave
1 BIG DIAMOND worth a look with rail
5 TWIN B DREAM GIRL using in the TRI
Race 11:
2 WHEELY TWICKY always in the hunt
1 WYND CREEK is a likely player here
3 KADS KISS could grab a minor share
Race 12:
3 HIDDEN POTENTIAL is capable here
9 BOOMBOOM BALLYKEEL top 2 play
2 DEADLY ACTION early speed threat
One Best:
1 TATTOO ARTIST (Race 7)
Value Play:
6 COUNT TO THREE (Race 10