Racing Night "LIVE" Friday Nov 20th Woodbine Mohawk Park W/HPIBET
2 min read
It's even more important right now to get set up with an HPI Account.
With Halton Region currently in the red "control" zone, Woodbine Entertainment has released updated protocols for owners attending the races at Woodbine Mohawk Park.
Starting Thursday (Nov. 19), Woodbine will permit one owner, plus one guest, access to the Woodbine Mohawk Park apron for only the race their horse is competing in. The owner and guest will not be allowed entry to the Grandstand until 10 minutes prior to the race and must exit five minutes after the race. If an owner has another horse racing that evening, the owner and guest must return to their vehicles until 10 minutes prior to their next race.
Access to the apron will be gained through the employee entrance (located on the West End beside the Paddock). At the point of entry, each owner shall present their AGCO Licence and undergo screening and a temperature check. Physical distancing must be practiced at all times. When exiting, owners shall exit through the front doors of the grandstand. Access to the grandstand is only for the purpose of traveling to the apron and exiting.
Owners must sign-up online prior to attending their race.
All races can be wagered on via the HPIBET.com platform and we have provided an easy to access link to get you set up with a safe and secure wagering account.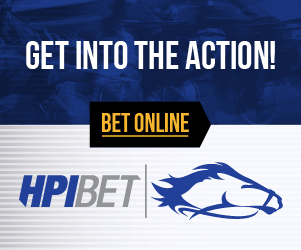 Fans are also encouraged to follow online and wager through 
HPI Bet.
HPIbet is the leading 'go to' destination for betting on horse racing.
We put you at the forefront of the action with access to over 450 racetracks displaying the best in Thoroughbred and Standardbred racing from all over the world – North America, Europe, South Africa, Dubai, Japan, and Australia. Connect to HPIbet from anywhere– at home, work, or any hotspot in your city – and conveniently place bets, review handicapping statistics, and watch races on your Smartphone, Tablet or PC.
Accessible 24/7 on a reliable platform that ensures privacy and safeguards your information, you get peace of mind, the necessary tools to make winning bets and the thrill of horse racing any where, any time with HPIbet. Sign up now by clicking the link or the photo above.
Friday November 20th Selections
Free Program Here
R1- #4 VINES TO HEAVEN
R2- #2 TWIN B TIPSTER
R3- #6 ARCHIES STAR
R4- #8 BETTER BE DONNA N
R5- #2 BEYOND BETTER
R6- #1 FUN ON A BEACH
R7- #7 SPRINGBRIDGEVISION
R8- #5 HIGHLAND DYNAMITE
R9- #8 SO MUCH MORE
R10-#2 WESTBEACH
R11-#1 DARKEST SECRET