Monticello Raceway|Wednesday March 30th,2022 Selections
1 min read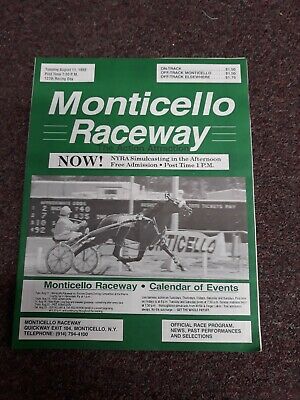 Monticello Gaming and Raceway is a harness racing track and racino in Monticello, Sullivan County, New York. It is off Exit 104 of Route 17, on New York State Route 17B. The racetrack is nicknamed "The Mighty M" and races standardbred horse races during the afternoons year-round.
Wednesday March 30th,2022. HorseGuy has provided his picked below for today's live racing program.
Wednesday's selections are sponsored by ATBTICKETS.COM and AdvancedAppetite.ca
Are you looking for tickets at a specific sporting event? Concert? Show?
You name it we have it so check us out on the web

Advanced Appetite really helps horses who are picky at their food and arent eating that well.In such short time you will find that horses you put on this product will eat everything in their feed tub and that's no lie. Ready the testimonials on the website from leading trainers.
Advanced Appetite during the Month of March 2022 will be donating $5.00 from the sale of every Jug or Gallon of their product in supoort of Breast Cancer Awareness 2022 and Team To The Moon.
Monticello Raceway|Wednesday March 30th,2022 Selections
R1 – (5-2-4)
R2 – (2-1-6)
R3 – (1-4-5)
R4 – (5-2-1)
R5 – (1-6-7)
R6 – (4-3-1)
R7 – (5-3-4)
R8 – (1-4-6)
About Author