Monday DEC 21st Woodbine Mohawk Park Selections
2 min read
It's Monday and we are back at it with a 10 race program at Woodbine-Mohawk Park are second to last program prior to the Christmas break which gives us a few days off prior to return for the boxing day card.

This evening our in house handicapper is here to help you make your wagering experience some what easier with selections with a few selection ideas.For those wondering how you can bet the races while you're watching.
HPIBET is here as the #1 source for online wagering on horse racing and all it takes is 5 minutes of your time to set up that horse betting account.
Fans are also encouraged to follow online and wager through
HPI Bet.
HPIbet is the leading 'go to' destination for betting on horse racing.
We put you at the forefront of the action with access to over 450 racetracks displaying the best in Thoroughbred and Standardbred racing from all over the world – North America, Europe, South Africa, Dubai, Japan, and Australia. Connect to HPIbet from anywhere– at home, work, or any hotspot in your city – and conveniently place bets, review handicapping statistics, and watch races on your Smartphone, Tablet or PC.
Accessible 24/7 on a reliable platform that ensures privacy and safeguards your information, you get peace of mind, the necessary tools to make winning bets and the thrill of horse racing any where, any time with HPIbet. Sign up now by clicking the link or the photo below.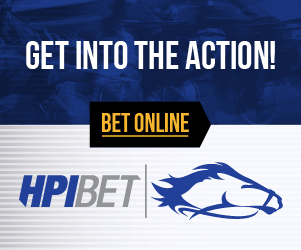 Woodbine Mohawk Park: Monday 12/21
R-1 #5 DELILAH SEELSTER
R-2 #3 LEGAL BETTOR
R-3 #1 MY MOTHER PEARL
R-4 #5 LEVY TAYLORE
R-5 #7 MAJESTIC SUNRISE N
R-6 #6 LYONS TILT HANOVER
R-7 #1 CARSONS SHADOW
R-8 #6 HAYEK
R-9 #3 POINTS NORTH
R-10 #3 LYONS HEDGEABET