Hawaii Rainbows at Boise State Broncos
3 min read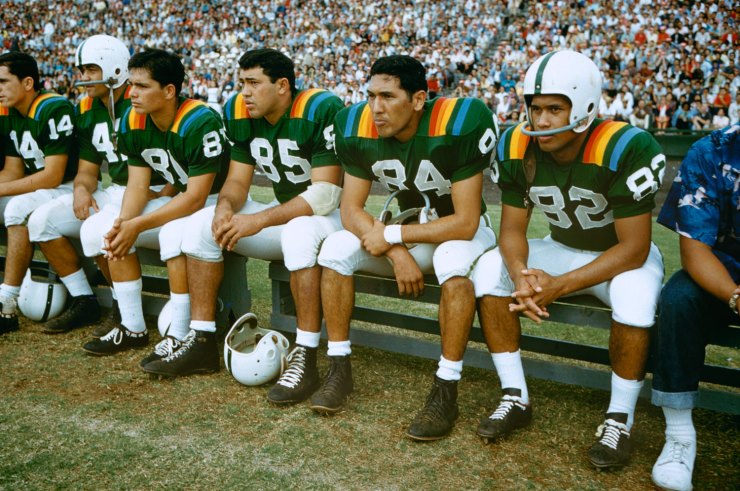 Boise State leads the all-time series with Hawai'i, 10-3. The Broncos lost the first two meetings with the Warriors in 1996 and 1999 (both nonconference games),
but since joining the Western Athletic Conference in 2001 the Broncos have won 10 of the 11 games played between the schools. The Broncos and Warriors have faced just once as members of the Mountain West, a 49-14 Boise State victory in Honolulu, Nov. 10, 2012. The Broncos have won four straight, with the last loss coming on the road, Nov. 23, 2007 (39-27). Boise State is a perfect 5-0 against the Warriors in home games.
Hawaii Rainbows at Boise State Broncos
TV: ESPN2  @10:15
Where: Albertsons Stadium, Boise, ID
Last week Boise State entered Friday night's game at Virginia ranked second in the FBS in rush defense, allowing just 45.7 yards per game. The defense stayed resilient against the Cavalier ground game, yielding only 40 yards on 33 attempts, a per attempt average of just 1.21 yards. Friday night's performance lowered the
Broncos' per-game yards-allowed average to 44.3 and bumped them up to the top rush defense in the country.
Boise State continued its machine-like efficiency in the red zone Friday night against Idaho State, scoring on four of its five trips inside the Cavalier 20. The Broncos were only denied a perfect night in the red zone when, already up 56-14 in the fourth quarter, they turned the ball over on downs at the Virginia 14-yard line.
For the season, Boise State is 17-for-20 on its red-zone opportunities (.850), with 13 of those 20 trips resulting in touchdowns (.650 touchdown rate). Boise State scored in each of its last 47 red zone opportunities of 2014, of which 38 were touchdowns. Following its loss to Air Force (Sept. 27), the Broncos ranked 112th
nationally (.708), but climbed all the way to conclude the season at 17th (.901). On the season, Boise State was 64-of-71 inside the red zone.
In his debut versus Colorado, quarterback Max Wittek completed 50 percent of his passes and led UH to victory. Game two did not fare as well against Ohio State's top-tier defense. Versus UC Davis, the light came on, with 70.8 percent passing and 272 yards, and stayed bright for the Wisconsin game. With the run game put out of commission by the Badgers, Wittek was tasked to lead the Rainbow Warriors by air, and the redshirt senior put up 189 yards on 15-of-32 passing, pushing the 'Bows downfield, but post- whistle missteps stopped UH from punching one in on a key play. Before UH, he played in 14 games at USC,
passing for 600 yards with three TDs in 2 seasons.
AS A FAVORITE OF 21.5 TO 31 PTS
This seasonSU: 1-0 | ATS: 1-0
Last 3 seaonsSU: 6-0 | ATS: 3-3
Since 1993SU: 46-0 | ATS: 26-20
IN ALL GAMES
This seasonSU: 3-1 | ATS: 2-2
Last 3 seaonsSU: 23-8 | ATS: 16-15
Since 1993SU: 184-43 | ATS: 124-83
IN ALL LINED GAMES
This seasonSU: 3-1 | ATS: 2-2
Last 3 seaonsSU: 23-8 | ATS: 16-15
Since 1993SU: 173-37 | ATS: 124-83
AS A FAVORITE
This seasonSU: 2-1 | ATS: 1-2
Last 3 seaonsSU: 21-3 | ATS: 13-11
Since 1993SU: 157-14 | ATS: 100-69
IN HOME GAMES
This seasonSU: 2-0 | ATS: 1-1
Last 3 seaonsSU: 15-0 | ATS: 8-7
Since 1993SU: 104-8 | ATS: 59-40
IN HOME LINED GAMES
This seasonSU: 2-0 | ATS: 1-1
Last 3 seaonsSU: 15-0 | ATS: 8-7
Since 1993SU: 93-7 | ATS: 59-40
The Bottom Line: Boise State's run defense will make Hawaii a one sided team.
Selection: Boise State -24.5