Super Bowl Wagering at America's Bookie – Here It Comes Again.
3 min read
Being the best online bookmaker is not a simple task. America's Bookie continues to "set the standard" as the best online sportsbook today. Our success has been driven through our strong commitment to making your online sports betting experience is safe and enjoyable one.
As the NFC and AFC line up for their showdown beginning at State Farm Stadium in Glendale, Arizona on Sunday, February 12, 2023 here are the current odds to win it all as of week 18 in the NFL
AFC Championship Odds
Team Current Odds Preseason Odds
Buffalo Bills +160 +375
Kansas City Chiefs +225 +600
Cincinnati Bengals +375 +1200
Los Angeles Chargers +800 +800
Baltimore Ravens +2000 +1200
Miami Dolphins +2200 +2000
Jacksonville Jaguars +2500 +6500
NFC Championship Odds
Team Current Odds Preseason Odds
Philadelphia Eagles +175 +1500
San Francisco 49ers +210 +750
Dallas Cowboys +450 +900
Minnesota Vikings +900 +2000
Tampa Bay Buccaneers +1300 +350
Green Bay Packers +3000 +500
Detroit Lions +5000 +7000
New York Giants +5000 +6000
Washington Commanders +8000 +3300
Certainly we can tell the weather will be great and both KC and Buffalo look like the stand outs in the AFC and favorite to win the Super Bowl at America's Bookie, while in the NFC it's the Philadelphia Eagles and and San Francisco who the players are favoring at this current time.
AmericasBookie has put together an experienced team of linemakers in order to guarantee some of the best lines in the bookmaking industry. We make our own lines and take up to date information in consideration in order to offer you the best line possible. Compare our lines to the competition and see it for yourself!
Betting lines for all the matchups in the major conferences are normally released a day in advance. Once you reach the actual day of the games, many of the top online books will release a new set of betting lines for additional games. These added games cover many of the matchups in the smaller Mid-Major conferences. Once you identify the online books that specialize in added college basketball games, they are very easy to find on a regular basis.
These added games fall completely off the national radar of the general betting public. Since they involve teams that many bettors have never even heard of before, there is an inherent betting value added to these plays. The opening lines tend to be a bit softer than the ones set for the Top 25 matchups and they will not be impacted by any early money coming in.
Americas Bookie Sportsbook Betting Bonuses & Incentives
Most bonuses are paid out in the form of free bets while others do add actual cash to your betting account. Regardless of how any bonus is paid out, they are all attached to a rollover requirement. A rollover is a betting requirement tied to a deposit amount, a bonus amount or both. Most books require rollovers on the amount of both the deposit and the bonus.
For example, if you deposited $100 and received $100 bonus, your rollover requirement would be on $200. If the rollover requirement is 10x, you would have to bet $2000 before becoming eligible to collect your money.
Every online sports bookie has specific rules for collecting bonus offers. This is the kind of fine print you really need to be aware of. There might be time limits in place to meet the rollover requirements. Certain bets may not count towards a rollover. While the basic concept of a bonus offer is consistent across the online sportsbook industry, there are going to be slight variations from one book to the next on how to collect.
Bet the Big Game Now!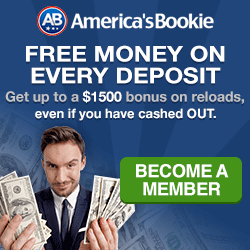 About Author