A total of $2.8 million is up for grabs this weekend at Woodbine Mohawk Park.
Grand Circuit action high lighted by the Mohawk Million. The under card will also feature the Metro Pace Final $720,000 on the line as well as the $215,000 MILTON – FINAL & the $455,000 SHES A GREAT LADY – FINAL.
A reminder from our friends at HPIBET. This evening and every race night you can wagered on via the HPIBET.com platform and we have provided an easy to access link to get you set up with a safe and secure wagering account.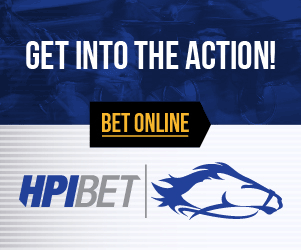 Fans are also encouraged to follow online and wager through
HPI Bet.
HPIbet is the leading 'go to' destination for betting on horse racing.
We put you at the forefront of the action with access to over 450 racetracks displaying the best in Thoroughbred and Standardbred racing from all over the world – North America, Europe, South Africa, Dubai, Japan, and Australia. Connect to HPIbet from anywhere– at home, work, or any hotspot in your city – and conveniently place bets, review handicapping statistics, and watch races on your Smartphone, Tablet or PC.
Accessible 24/7 on a reliable platform that ensures privacy and safeguards your information, you get peace of mind, the necessary tools to make winning bets and the thrill of horse racing any where, any time with HPIbet. Sign up now by clicking the link or the photo above
Saturday's Selections (Free Program)
R1- #6 BEST IN SHOW
R2- #3 DAY DELIGHT
R3- #3 THE DOWNTOWN BUS
R4- #4 WESTERN EXPOSURE
R5- #4 CAVIART AUDREY
R6-#3 PEDRO HANOVER
R7- #6 SO MUCH MORE
R8- #3 ABUCKABETT HANOVER
R9- #3 SYLPH HANOVER
R10- #3 DONNA SOPRANO
R11-#6 ROCKME ROLLME
R12-#6 JM JACK OF HEARTS